MASTER CLASSES
from July 11 to 22
REGISTRATION OPEN!
⇒ REGISTRATION (MIDDLE – HIGHER – POST GRADUATE) ⇐
Access here to see registration options for Master Class and
José Tomás Contest (Youth and Professional Categories)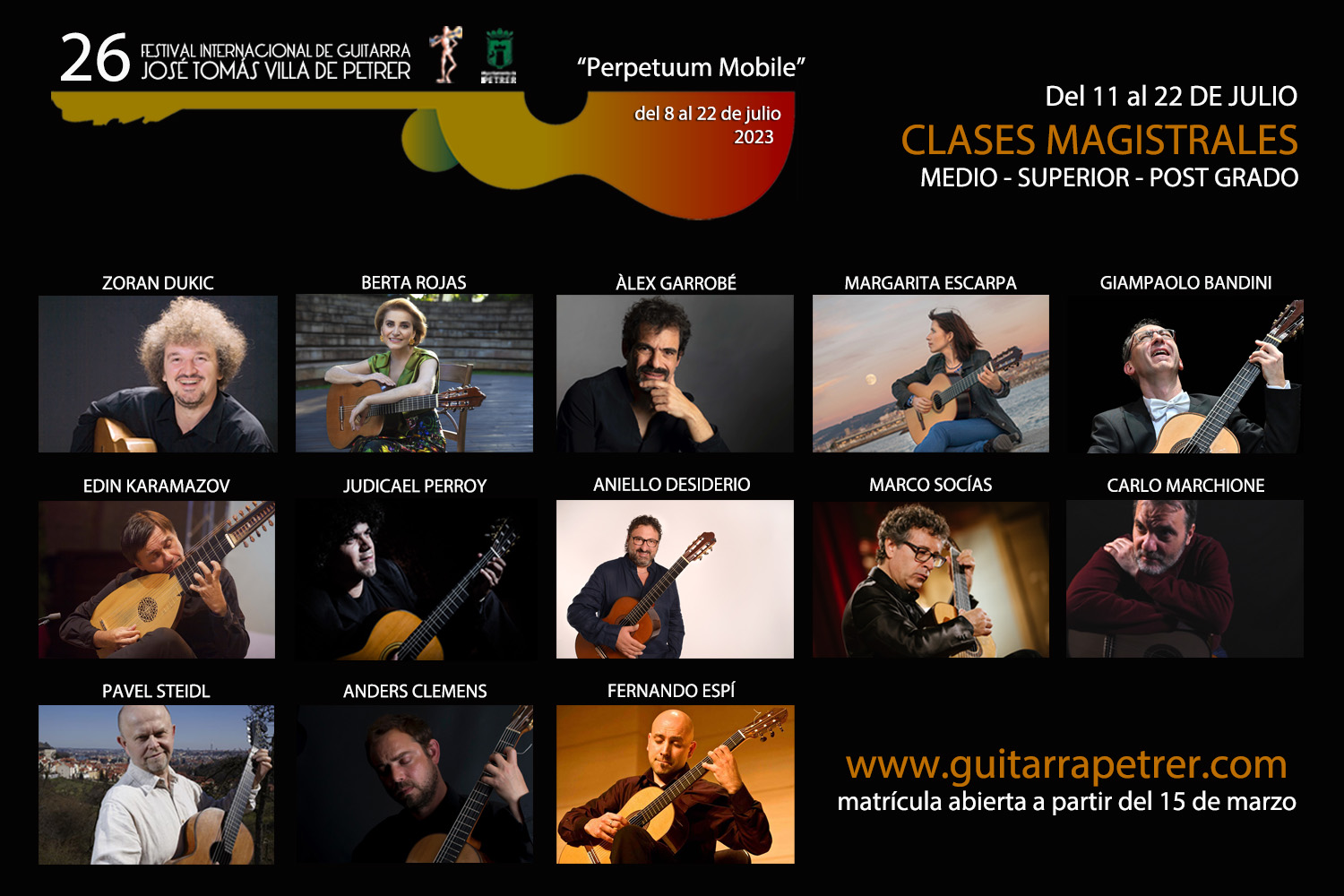 If you enroll in a group (2 teachers), you will be able to listen to the rest of the groups of teachersIf you enroll in two groups (4 teachers), you will also be able to attend 2 monographs for free. "Except active in M. Barrueco" 
"shortly we will inform how the teachers are paired"
MONOGRAPHICS
from July 13 to 22
TEACHERS AND SUBJECTS
Project of the José Tomás Villa de Petrer International Guitar Festival that began in 2012 with Maestro Leo Brouwer in his tribute and delivery of the José Tomás Honorary Guitarist Award. The orchestra was directed during several editions by the director Pedro Chamorro. It has also been directed by artists such as Jorge Cardoso, Francisco Albert Ricote or Arnaud Dumond. 2019 was the year of its last call, after the pandemic, we relaunched this flagship project of the Guitar festival, with the idea that the students enrolled in the courses live the experience of living together sharing music with great artists. On this occasion, it will be Aniello Desiderio who will participate as solo guitarist. Miguel García Ferrer, an expert conductor of different chamber ensembles, with whom we were able to count for the "Twenty-five years together" orchestra, made up of great guitarists for the 25th anniversary, who was in charge of directing this fantastic concert with the work The Walls of the composer Sergio Assad. Rehearsals will be on the 18th, 19th and 20th and the concert on Thursday 20th at 20:30 at the Teatro Cervantes. The concert will be completed by the Duo Aniello Desiderio – Zoran Dukic. Sheet music will be sent in advance. Sign up if you want to participate!
Contact us
You can get in touch with Guitar Petrer by filling in this simple form, writing to pimaguitarra@gmail.com,
festivaldeguitarrapetrer@gmail.com or by calling our customer service line.
---
Pepe Payá
658 77 52 34
English: Carlos Juan
657 93 44 78