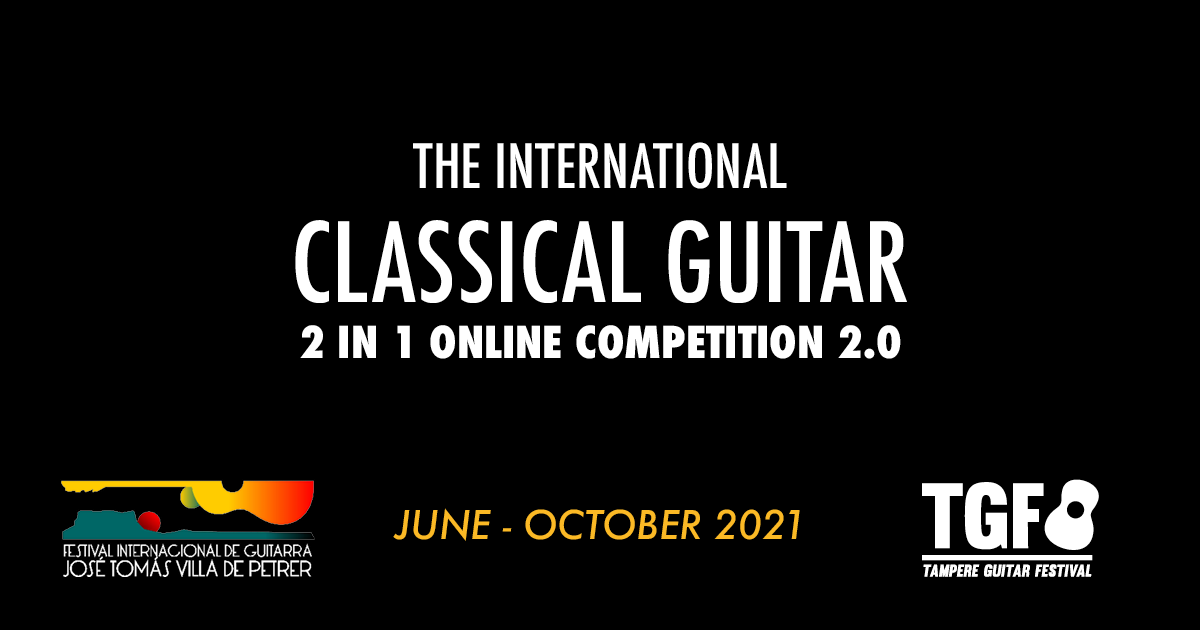 APPLY & GET IN (CHECK OUT ALSO OUR SCHOLARSHIPS)

MAKE VIDEO(S)

WIN THE COMPETITION, OR TWO
This is a new accessible way to attend a competition from wherever you are. You only pay 1 registration fee and attend 2 competitions – you may also get a scholarship for free attendance. And the best of all: with one registration fee and using the same videos, you may win two competitions!
The No age limit category of the guitar competition 2021 will be organised for the 2nd time together with Spain. The name of this shared event is The International Classical Guitar 2 in 1 Online Competition 2.0. By applying to the competition you will attend to 2 international competitions, The 4th International Classical Guitar Competition of Finland and the Spanish José Tomás Villa de Petrer International Guitar Competition – XX anniversary, which are held together as an online video competition.
To anticipate the financial issues in the field of culture, we have launched a Scholarship round to share scholarships to the guitar players around the world. You may either attend this Scholarship round or apply directly to Round 1 of the competition, or both if needed.
PROGRAM & DATES
SCHOLARSHIP FOR 2 IN 1 ONLINE COMPETITION (JUNE 1-13, 2021)
Duration 7-10 mins (total duration of the video)
Free choice program 2 pieces, or part of it, from 2 different composers (also one own composition is admitted)
      ⇒ Read the instructions for Scholarship round
ROUND 1 (AUGUST 1-7, 2021)
As in the previous round for Scholarships
The same program and/or video as in Scholarship Round can be used
      ⇒ Read the instructions for Round 1
SEMIFINAL (SEPTEMBER 18, 2021)
Max. 20 competitors per competition
Duration 12-15 mins (total duration of the video)
Obligatory piece by Leo Brouwer: Motivos de Son Nº 1 (commissioned by Petrer Guitar Festival and TGF) – estimated duration 2-3 mins. Download from Ediciones Espiral Eterna. Normal price 10 €, special price 8 € with code: petrer
Other program is free choice (different from previous round) and must be from at least 2 different periods
      ⇒ Read the instructions for Semifinal
FINAL (OCTOBER 31, 2021)
Max. 4 competitors per competition
Duration 25-30 mins (total duration of the video)
Free choice program from at least 2 different periods. Program must be different from previous rounds.