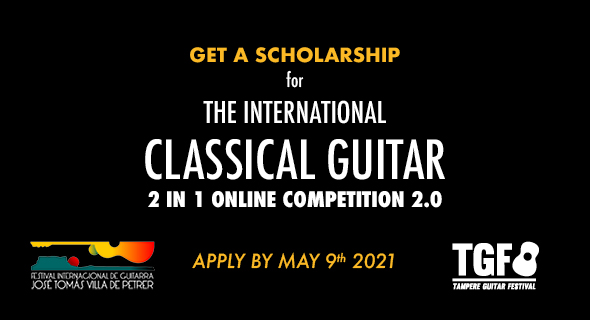 SCHOLARSHIP ROUND (1- 13.6.2021)
Get a free participation for 2 in 1 Online Competition 2.0 by attending the Scholarship round.
"SCHOLARSHIP ROUND VIDEOS"
Here you can see the playlist with the videos of the participants in Scholarship Round
Your steps
Apply by May 9th 2021 for the Scholarship round.

Pay the registration fee of 50 € by the due date (invoice will be sent to your email after confirmation).
Prepare your video. Read the video requirements first.
Upload the video to your YouTube channel latest on May 25th.
IMPORTANT: Read also our YouTube settings and follow all the steps such as filling in the program form.
Start sharing your video from the playlist to gain audience votes.
Our steps
Your video will be added to the playlist of Scholarship round, which can be found on both competition's YouTube channels.
Video contest of Scholarship round is open at TGF's YouTube channel during June 1st – 13th.
The Juries of Spain and Finland will each select 10 of their favourite performances. The names of these 20 will not be announced in public.
From these 20 there will be a lottery to select 10 scholarship recipients – these names will be announced on the results page on June 15th.
The Juries of Scholarship round will be different from the other rounds.
Results
10 scholarships in total will be given by the Juries of Finland and Spain.
1 extra scholarship will be given to the Favourite Video of the audience (most liked video on the YouTube playlist).
The scholarship recipients will get free attendance to the actual competition. 50 € registration fee will not be refunded.
If you won't get a scholarship, you may still attend the competition with a reduced price 120 € (50 € off).
The same program and video from Scholarship round can be used also for Round 1.
Requirements & tips for video recording
Youtube | Scholarship & Round 1
Upload the video to your YouTube channel
Use the following settings:
– Unlisted (you may change to Public when the round officially starts)
– No, it's not made for kids
Copy/paste​ the following texts to corresponding fields and do required edits
          a) Title
The International Classical Guitar 2 in 1 Online Competition 2.0
          b) Descriptions​:
Competition video for The International Classical Guitar 2 in 1 Online Competition
International Classical Guitar Competition of Finland & International Guitar Contest, José Tomás Villa de Petrer
COMPOSER 1: COMPOSITION 1
COMPOSER 2: COMPOSITION 2, etc
          c) Tags ​(copy/paste all tags one by one to Tags field)​:
International Classical Guitar Competition of Finland
Tampere Guitar Festival
International Guitar Contest, José Tomás Villa de Petrer
EuroStrings
Creative Europe
Fill in the program form at https://www.gest.fi
– Program
– Link to your YouTube video
– Sheet music of your program in playing order on 1 PDF file
Before the competition, check that your video appears on the playlist
For any assistance or questions, please email competition@tgf.fi