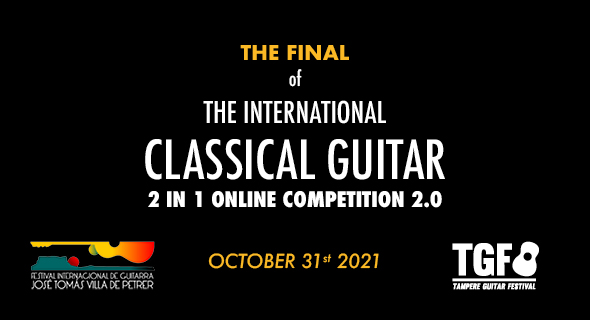 FINAL (31.10.2021)
The process in the Final is the same as in the Semifinal.
REQUIREMENTS & TIPS FOR VIDEO RECORDING
Your steps
Prepare your video as in previous the rounds.
Send the video file by October 24th to competition@tgf.fi by using Dropbox, Google Drive, WeTransfer or other method, but not as an email attachment.
Join the stream on the competition day, share the link to your channels to gain votes and attend the chat with the audience.
Our steps
Your video will be added to one of the video sets.
Final will be streamed on Petrer Guitar Festival YouTube Channel and Facebook page on October 31st and on the channels of Spain.
Results
The results of the 2 in 1 Online Competition will be announced in the results page on November 1st.